Am/Can CH Hearthside's Season Ticket OS X Harborview Just One Look

GR-90495F24M-PI hips   GR-EL14136M24-PI
GR-CA11808/19M/C-PI heart   GR32196 eyes
"Lotto"

Lotto is from Aspen's last litter which was born in July of 2004.  Lotto started his show career off with a bang by going Best Puppy at the Potomac Valley Specialty in April of 2005.  Later that month, he went BOSS at the Columbus Specialty under Judge Vicki Seiler.  To top that off, he was BISS at the Toledo Specialty under breeder Judge Bruce Wylie.   He was also awarded BOSS under breeder Judge Donna Edwards at the Ft Detroit GRC.  After going to the national in Harrisburg and picking up some placements, Lotto began his campaign for his American championship.  His first weekend, he was awarded WD & BOS over male specials from the 12-18 mos class under Judge Roy Holloway.  We then began to show in the bred-by exhibitor class in February of '06.  He picked up back to back wins in Buffalo, NY under Judges JR White and Betsy Stites and then back to back majors at the WPKA shows in Pittsburgh under Judges Ron Spritzer and KeKe Kahn.  Lotto has also won many Best Bred By Awards and Group placements. He finished his championship from the Bred By Class in February of 2008 under Judge Joe Gregory. He is mom, Aspen's 3rd Champion. 
Lotto is a fun loving guy who is very gregarious and is famous for his hugs!  He is an easy dog to live with and gets along with everyone- canine or human, that he meets.  He is moderate dog at just over 23 1/4 in tall.  He has a beautiful headpiece, lots of bone, a great topline,  beautiful turn of stifle and a good amount of prosternum.  He is also clean coming and going. 
Lotto has been siring some beautiful babies.  His puppies seem to possess his outgoing attitude, have good substance and coat, good fronts and very pretty faces.  He has kids who are working on their Championships, have completed field titles, agility titles, tracking titles and who are licensed therapy dogs.
Lotto passed away just before his 13th birthday due to a kidney infection that wasn't responding to antibiotics and led to renal failure.
Lotto was an absolutely amazing dog and we were so very blessed to have him as a part of our family.  His gentle nature and sweet smile will be with us always.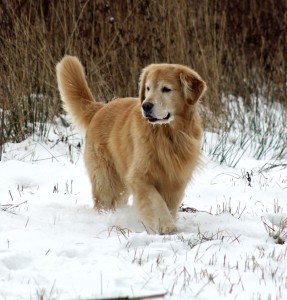 Lotto during the first snow of 2013 at 8.5 years old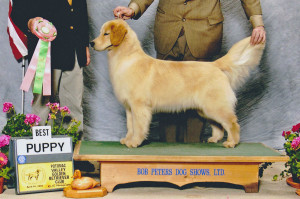 Best Puppy in Specialty his first time in the ring!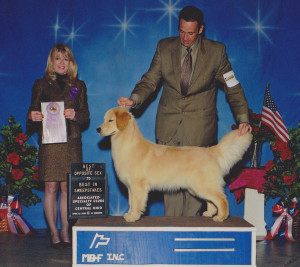 Best Opp in Sweeps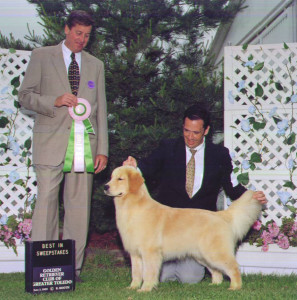 Best In Sweeps Toledo GRC under breeder Judge Bruce Wylie
Back to Back majors from the Bred-By Class at 20 months old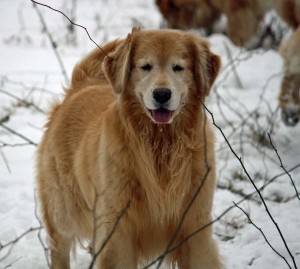 Having fun in the fields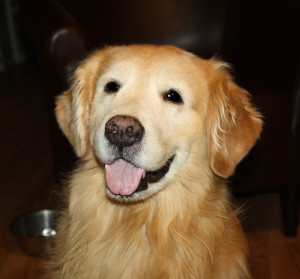 10th Birthday
Lotto's Pedigree
 

CH Tangleloft Odds On Pebwin CD WC VC OS

 

BISS Am./BIS Can./BIS Bda. CH. Cherrybrook Touchstone JH WC SDHF OS

 

CH Sunshine Hill's Wildflower CD JH WCX OD
Am/Can CH. Hearthside's Season Ticket OS

 

CH Laurell's Goin' Great Guns OS SDHF

 

Am/Can CH. Eirene's Love Or Magic Am Can OD

 

Can Ch. Brookshire's Jessica Tandy CD Am Can OD

 

AM/CAN CH Jap CH Edgehill Calypso Jo OS/SDHF

 

BIS CH Lovejoy's Catchme If U Cancan OS/SDHF

 

Lovejoy's She Can Cancan
Harborview Just One Look (dam of 3 AKC champions)

 

CH Tuxedo's Tequila Sunrise OS

 

Parkerhouse Irish Cream

 

 

Tuxedo's Funny Girl CD