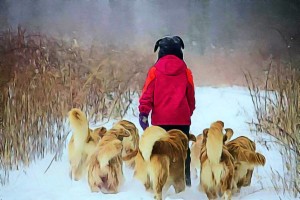 Arianna with the dogs in 2015


I don't remember a time in my life when I wasn't enamored with and by Golden Retrievers. My involvement with golden retrievers started in 1994 when I started doing competitive obedience with Jazz. I have taught basic pet, competitive obedience classes, as well as judged at many AKC sanctioned matches. Then came along the next obedience prospect. My friends, who showed in conformation encouraged me to take him to a couple matches. Well, I gave it a shot and was almost instantly hooked!
I am currently most active in conformation shows.  I have been the Golden Retriever Club Of America's Conformation Statistician for the past 15 years.  I am also a CCA evaluator and have judged a number of Golden retriever Specialty Sweesptakes.
These goldens are my passion and a big part of our family life. All of our dogs live in the house with us and our cat, Spencer.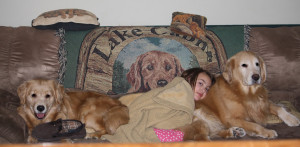 Arianna with Marlo and Lotto




You will find the dogs all piled under and around the kitchen table at dinner, hoping someone will give them a taste! Given the opportunity, you will even find our worst offenders helping themselves by doing a little counter surfing! In the evenings especially, whether I am working on the computer or relaxing on the couch, you will find me surrounded by my "sea of gold".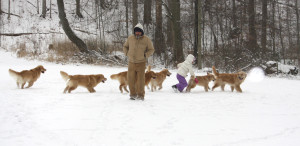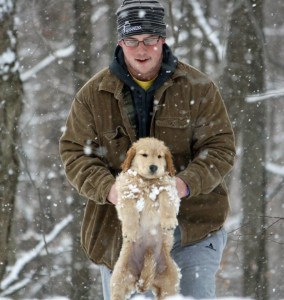 Matt with Flutter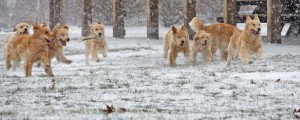 The dogs also enjoy swimming quite a bit as we live across the street from Lake Erie. Perhaps their favorite activity is their runs. We load them all up in the van and take them to a friend's property where all of them can run free on 77 acres of fields and woods and swim in the creek.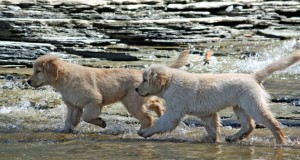 We have met a lot of great families and made some
wonderful friendships through this very special breed.
We hope you enjoy your visit here at Harborview!