GCH Harborview Under Construction X Harborview Preferred Ticket Holder
At stud to approved bitches
GR-110339E25M-VPI hips   GR-EL30718M25-VPI elbows
GR-CA25612/18M/C-VPI      GR-EYE4044/26M-VPI
"Clooney"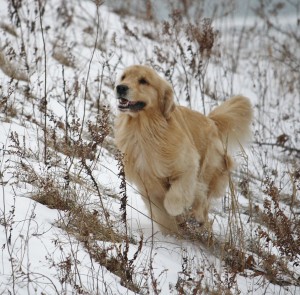 Clooney at age 3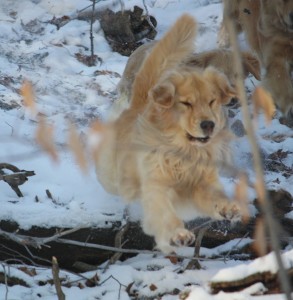 Clooney is from a litter with Detour and Terra.  We had planned on keeping a puppy girl from the litter(Clooney's sister, Fancy) but as Clooney grew, we just knew he was going to have to stay, too!!  He had the cutest little face and the most charming little personality.
Clooney, sister Fancy are New Year's babies.  They were born 1/1/2012.  Clooney finished his AKC championship in January of 2015.  
At his first show, he was awarded Best Opposite in Sweepstakes at the Golden Retriever Club Of New York's Specialty.  He very quickly picked up a few reserve winner's dog awards and then he was awarded his first points from the 6-9 months puppy class.  He took some time off to grow up and mature and accumulated 11 points and both majors from the Bred-By exhibitor class.  To say we are thrilled with how he has been doing would be an understatement!
Clooney has a very silly personality and life is a big game to him.  He loves to run and play with all the dogs but of course, there is a special bond between him and his sister, Fancy.  Clooney has a lovely face with beautiful pigment, full dentition and a broad muzzle and top skull.  He is a very athletic dog and has quite a bit of substance.  He also has a beautiful topline and short back.  He moves very freely and his movement is effortless.
Clooney recently earned the Golden Retriever Club of America's designation of Outstanding Sire.  We couldn't be more proud of this prestigious title and so very thankful to all the owners and his kids that made it possible!!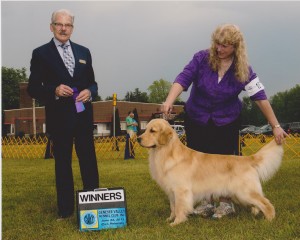 Clooney going Winner's Dog from the Bred-By class at almost 18 mos old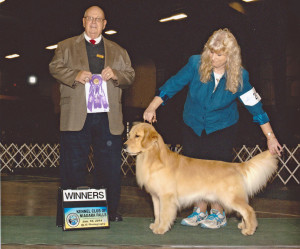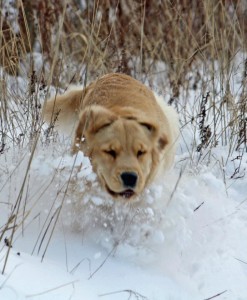 Clooney at 2.5 years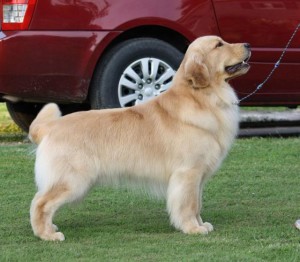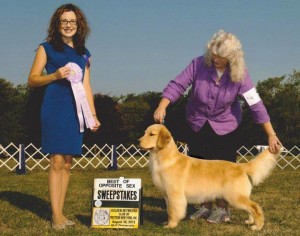 Clooney winning BOSS at his first show at 7 mos old
New Champion!!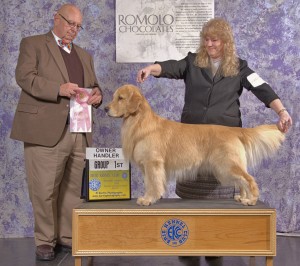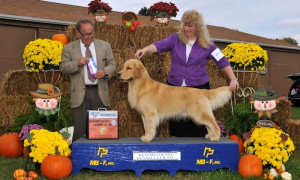 Clooney's Pedigree
 

CH Cloverdale Tommy Bahama

 

CH Cloverdale Katmandu

 

Cloverdale Camryn
GCH Harborview Under Construction OS 

 

CH Harborview Just U Wait OS BISS BOSS

 

Hearthside's Chip Off The Rock OD

 

AM/CAN CH Hearthside French Connection  

 

AM/CAN CH Hearthside's Season Ticket OS

 

CH Harborview Winning Ticket OS BISS BOSS

 

Harborview Just One Look (dam of 3 AKC champions)
Harborview Preferred Ticket Holder

 

CH Faera's Starlight OS

 

Harborview U Better Hold On

 

 

Parkerhouse Irish Cream