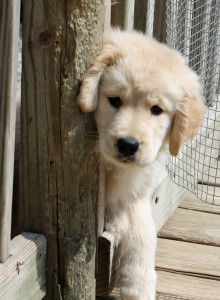 All of our dogs live in the house with us and are a part of our family. Goldens are people dogs and want and NEED to be with the families that they are living with. They do not do well as outside dogs or with only getting some attention here and there.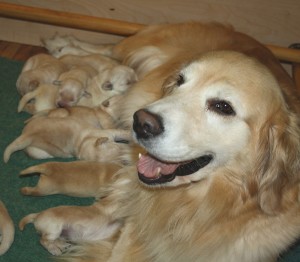 How I evaluate the dogs in our breeding program's potential for breeding is rather complex, but I will explain it as best as I can. The dogs health and temperament are first and foremost. They must exhibit the proper golden temperament. To me, a golden should be a dog who is happily snoozing while you are busy in the house or just relaxing. But, when you pick up a leash or a tennis ball, the dog should be ready to go have some fun and pursue whatever activity you would choose as well.  I also evaluate them towards their physical soundness in regards to the golden retriever standard. I then plan breedings that I believe will compliment the dogs so that I am adhering as closely as possible to what the standard calls for in a golden retriever.

All of our dogs that are involved in our breeding program are examined for a variety of different health issues. We clear hips and elbows with the OFA(Orthopedic Foundation for animals), we do eye exams with a veterinary ophthalmologist every year and their hearts are cleared by a veterinary cardiologist. These clearances have been done on our dogs for generations.  We also have the grandparents here for people to meet with most litters that we have.
Our companion puppies are sold on AKC limited registration and spay/neuter contracts since they are companions/pets and should not be bred.  All our puppies are sold with a written agreement and to APPROVED HOMES only. I do keep a waiting list for any litters that we are expecting.

I don't require a deposit until after the puppies are born and I know that everyone is doing well. If you still would like a puppy at that time, I then ask for a $300 deposit to hold the puppy until 8 weeks so I know how many puppies are definitely spoken for.  A deposit is a firm committment and will only be refunded until puppies are 4 weeks old.  Up until the litter is here and deposits are due, I just keep a waiting list of families that are interested in a particular litter.  Pricing on puppies will be determined by the litter.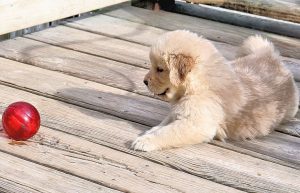 I feel very strongly that the best way for the puppies to be happy and the families to be happy is for their personalities to mesh well. I don't want to see a quieter puppy in a home with 4 young kids. The puppy just isn't going to be what that family is looking for. I also don't want to see a more active puppy with a family that doesn't have children or with "empty nesters". I get to know my puppies very well as they are born in my bedroom and live underfoot with us and are raised with the other dogs. In a litter of pups, the personalities run the gamut and will be quite different just like human siblings. Most of our puppies test out very middle of the road. While that may be similar in the litter, there are little nuances to each puppy that make them different from their other brothers and sisters.

If you are interested in one of our puppies, the first step is to fill out our Puppy Questionnaire.  Unfortunately, because of the number of inquiries received, a questionnaire MUST filled out to be considered for one of our puppies.  I also do most correspondence via email.  I do not place puppies with pet shops/brokers or any type of chain.
If you have any questions about our dogs or our puppy placement process, please don't hesitate to contact me.