12/14/96 to 12/21/12
Those we love don't go away,
They walk beside us every day.
Unseen, unheard but always near,
Still loved, still missed and forever dear.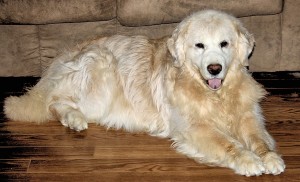 "Bailey" (15 years young)

Bailey is Harborview Goldens-she is the foundation to our breeding program and all of our dogs descend back to her.  We have shared many memories, traveled many miles and forged many friendships.  She helped raise two human children as well as many, many of her grand-children.  Whenever we had a litter, she would always go in and check to make sure that the moms were doing things to her satisfaction and as the puppies got older, she enjoyed spending time with them.  So much so, that we started calling her "mama".
Bailey had a flair for life, an amazing spirit and was very good at getting her own way, all the while batting her eyes and using all her feminine charm so you just couldn't help but smile.  This worked equally well on humans as it did the other dogs.
She was with me for most of my adult life and so it is hard to remember what life was like before Bailey.  She was a wonderful friend and companion and her presence in our family is very missed.  Rest well, sweet mama….I will love and miss you always.  Until we meet again…….
Bailey passed away on December 21, 2012 from gastroenteristis that led to renal failure.  
Bailey had 13 points including 1 major- all owner handled, with too many major reserves to count!
Bailey possessed exceptional breed type, with a winning personality. She was also very clean coming and going and from the side.

Bailey was been a fabulous producer for us and we will forever be indebted to Jim and Sharon Parker and Melody Weil of Tuxedo Goldens for allowing us to make Bailey a part of our family. Bailey has kids who are finished Champions, licensed therapy dogs, and who have obedience and hunting retriever titles.   Many of Bailey's children have also lived well into their teens and have also been an integral part of our breeding program.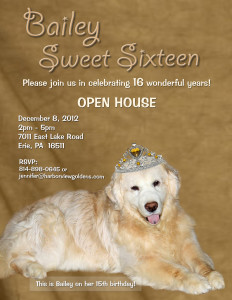 Bailey's sweet 16 Birthday party invitation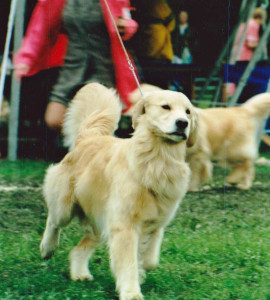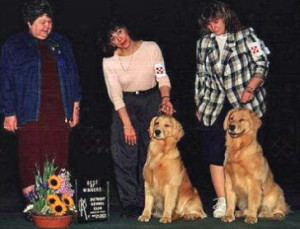 Bailey and son Rocky(CH Harborview Just U Wait OS BISS BOSS)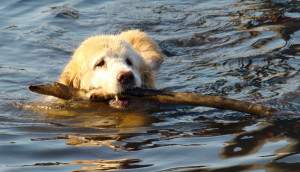 Swimming in Lake Erie at almost 13 years young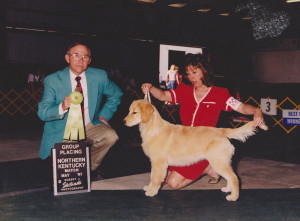 5 mos old with Melody Weil of Tuxedo Goldens
Bailey's Pedigree
 

CH Asterling's Buster Keaton OS

 

CH Faera's Future Classic OS

 

CH Faera's Puppy Kidd OD
CH Tuxedo's Tequila Sunrise OS

 

CH Asterling Go Getm Gangbuster OS/SDHF

 

CH Laurell's Going Hollywood OD

 

CH Laurell's Final Play OD

 

CH Sienna Sunnybrae Fire Chaser CD OS/SDHF

 

CH AM/BDA CH Twin-Beau-D's Hi Speed Chase OS/SDHF

 

Twin-Beau-D's Almond Joy
Tuxedo's Funny Girl CD

 

AM/CAN CH Miramichi's Pier Connection OS

 

CH Summit's Almond Delight OD

 

 

Klondike's Chato De Shamrock